Mercedosaurus Rex at Indianapolic Park
Part 1: Penske Racing at Indianapolis - new standards
Author
Date
September 22, 2009; updated on October 25, 2011
Related articles
March-Alfa Romeo 90CA - Fiasco Italo-Brittanico, by Henri Greuter
March-Porsche 90P - The last oddball at the Indianapolis Motor Speedway, by Henri Greuter
Penske-Mercedes PC23-500I - Mercedosaurus Rex at Indianapolic Park, by Henri Greuter
Who?

Emerson Fittipaldi

What?

Penske-Chevrolet PC22

Where?

Indianapolis

When?

1993 Indianapolis 500
Why?
Traditionally oriented Indianapolis fans, lovers of the good old days, often feel that Indianapolis changed forever with the arrival of the rear-engined cars at the expense of their beloved front-engined roadsters.

Another significant date in Indianapolis history is 1969, the year that Penske Racing entered Indianapolis and set new standards of efficiency. In the wake of this 'change' another significant turning point was to follow in later years.

Roger Penske had been a fairly successful driver in his own right in sportscar racing in the early sixties but let's restrict ourselves here to his activities at Indianapolis up to 1994.

Penske Racing came to Indianapolis for the first time in 1969, entering a Lola-Offy for driver Mark Donohue. Seventh place earned Donohue the Rookie of the Year title. He finished second with a Lola-Ford in 1970. Even in these early years, Penske stood out because of his immaculate preparation and outstanding organisation. Every detail was looked after and taken care of to a standard rarely seen before in Champ Car racing.

Roger was impressed with the new Offy-powered McLaren M16 Indycar and bought one for Donohue. Mark's was the fastest car in practice but pole escaped him nonetheless. His race was also one to forget: 25th. One year later, however, Donohue scored Penske's first victory at Indy after teammate Gary Bettenhausen was forced to retire from the lead.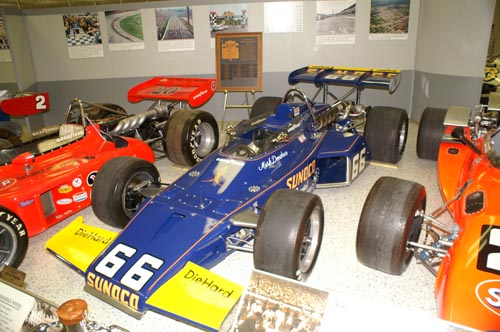 Mark Donohue's 1972 McLaren-Offy, the first-ever 500-winning car owned by Roger Penske. It was sold off to Jim Hurtubise who drove it in 1974 and then found its way into the hands of IMS who restored it back into the colours of the 1972 winning car. It is the only winning car between Roger Penske's 15 race winners on permanent display in the Museum. (photo HG)
Penske kept using M16s for some time although he fielded an Eagle for Mark Donohue in 1973. Even though the team was always fast and among the favourites, its race results weren't that impressive - yet.

Penske replaced his M16s over the years with later-specification M16s. According to my research he must have owned at least five different M16 chassis between 1971 and 1976. In 1977 he replaced his M16s for Cosworth-powered McLaren M24s. Tom Sneva won the pole (during qualifying he was the first-ever driver to break 200mph officially) and finished second that year.

Penske took a new step forward in 1977. He began building his own cars and for the latter half of the 1977 he built the Penske PC5 which was a virtual twin to the McLaren M24.

For 1978 he built the Penske PC6 and Tom Sneva used one to repeat his 1977 results. Tom also won the USAC championship with the Penske but, annoyingly, without winning a single race! Champion or not, Sneva was told to leave.

Also debuting with Penske Racing in 1978 was Rick Mears who drove his first race for Penske at Indianapolis, qualifying fast but retiring early on. Still he won Rookie of the Year honours, though he had to share this honour with Larry Rice.

Mears won the 500 for the first time in 1979, giving Penske its second "500" victory. Now, his first decade at the Speedway behind him, Roger Penske was about to make the Speedway his private hunting ground.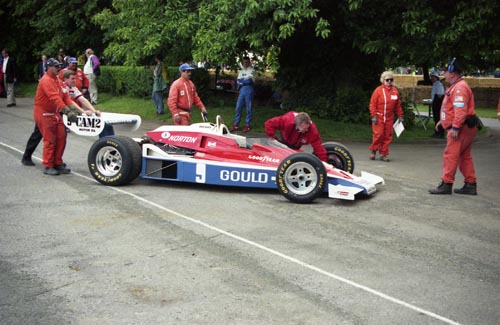 The winning car of 1979 was sold off by Penske too. It is said not to be existing in its entirety anymore but what is left being brought back together again. Rick's first winner looked like this, this PC6 was photographed at the Goodwood Festival of Speed in 1998. (photo HG)
Penske's third Indy victory came courtesy of Bobby Unser in 1981 though it wasn't without controversy. At first Bobby was penalized a lap for passing cars under yellow but 138 days later the penalty was upturned and changed into a fine, resulting in Unser being reinstated as the winner.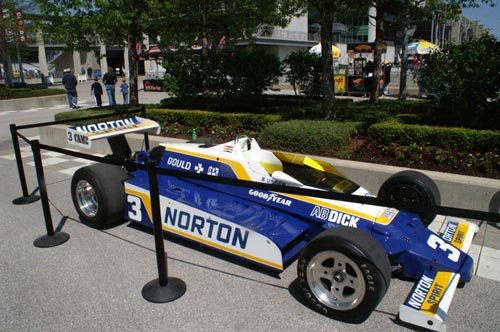 Bobby Unser's winning car of 1981, photographed on Opening Day 2008. This car is in a private collection and the last of the winning cars that Roger Penske once owned but aren't in his possession today. (photo HG)
Mears lost the 1982 race in a thriller of an event. One year later it was new driver Al Unser Sr. who lost out in a shoot-out with, of all people, Tom Sneva!

1983 wasn't really good for Penske since his own car, the Penske PC11, didn't work and the team had to go back to updated 1982 cars (PC10B) later in the year.

With regards to Penske as a constructor, he had made cars available to interested customers before, but it was against his habit to sell the latest version. Instead, he always put the previous year's model on sale. Retaining the latest type was 'the unfair advantage' he kept for his own team. Other constructors applied the same policy, occasionally selling off the replaced equipment. But it could turn into a nasty surprise for the happy customers. Several examples of the PC6 and PC7 went into customers' hands and performed very well. But in 1981 the Penske team had a good year with the PC9B, putting it for sale for 1982, with the team itself changing over to the PC10. The PC10 performed quite well again but the PC9B customers found to their disgust that the PC9B was no longer competitive. With the PC11 and particularly the PC12 Penske got themselves some lousy performers too. To rescue the 1984 season Roger had to swallow his pride, bought March 84Cs as well and Mears won the "500" in one of those. It was the start of a curious string of victories for Rick. Although there may have been some regret about not being able to have done it with self-built cars, it was the start of Penske's golden decade at Indianapolis.

In 1985 Penske bought new Marches and this time it was Danny Sullivan who won the race. With his fifth victory, Penske had joined Lou Moore as the car owner with the most victories at the Speedway.

Penske then joined forces with Ilmor Engineering to build a new engine for Indycar racing that was to beat the all-dominant Cosworth DFX. The engine was tried in a self-built car, the Penske PC15. But car and engine were still too new, Al Unser qualified sixth but retired after 149 laps. With hindsight some people who were part of the project concluded that development of the PC15 wasn't helped without a baseline to validate the chassis against (a DFX-powered version) while the Ilmor development could also have been more efficient had it been installed in a baseline chassis. Errors like these were still being made in later CART years.

Meanwhile the Penske-entered March-Cosworths 86Cs did well enough. A late yellow in the 1986 race prevented Rick Mears from breaking Penske's tie with Lou Moore for being winningest car owner.

The introduction of the Ilmor engine, sponsored by Chevrolet, turned out to be another turning point in the history of Indianapolis. Roger Penske was shareholder at Ilmor and in that function he more or less got a vote in the decision about the other teams that were going to get the Ilmor engines. Initially this wasn't that much of a problem since the engine was clearly more powerful then the Cosworth but far less reliable. And to his credit, when in 1987 more teams were permitted to obtain Ilmor engines, Roger didn't object to the fact that they went to two of the strongest CART teams other than his own, Newman-Haas and Patrick Racing.

For 1987 Penske built the PC16 powered by the Ilmor engine but that car was too slow and hurridly the team dragged up three of its year-old March 86Cs, fitted two of them with Ilmors, the third retaining its Cosworth. Al Unser Sr took over this entry when Danny Ongais had to withdraw. Luck played into his hands but Al won the race for Penske, making Roger the most successful entrant ever at Indy.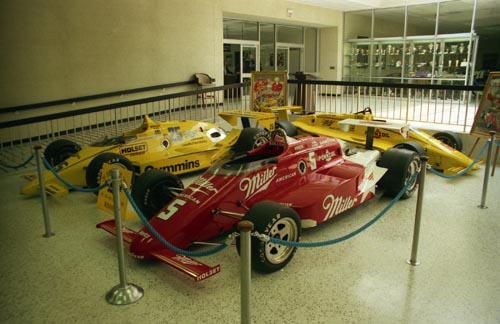 In 1988, the IMS Museum had Roger Penske's final three winning cars on display together: Mears's 84C, Sullivan's 85C and Unser Sr's 86C. I don't think that on any other occasion in its history up until 2010 the IMS Museum harboured four winning cars entered by Roger Penske: these three and the museum-owned 1972 Donohue car. (photo HG)
Penske reorganized his car building factory, located in England. Designer Nigel Bennett came over from Lola and the 1988 car, the PC17 was devastatingly good. The three cars entered at Indy clinched the entire front row, Rick Mears won his third "500".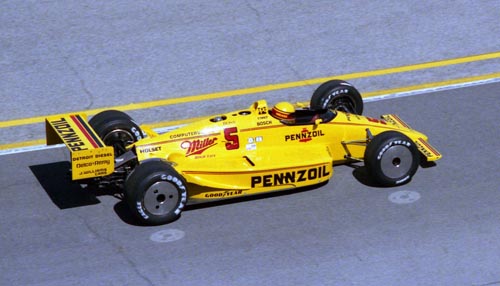 Rick Mears on his way to the Pole in 1988. Two weeks and one day later he was a three-time winner at Indianapolis. (photo HG)
By now the Ilmor-Chevrolet was the engine to have in CART and at Indianapolis. And given his part-ownership of Ilmor, Roger was in the hot seat to influence the decision about which teams his own drivers had to fear most. Granted, that didn't happen since Ilmor provided engines to some of the strongest teams in CART. But by limiting the numbers of available engines it also limited the number of drivers in with a chance to win races. A number of race fans was having difficulties with CART politics and the loss of Indy traditions and held Roger at least partly responsible for this decline in open competition at the Speedway that left smaller teams without any serious chance to beat the big guys.

1989 was a curious year: three cars were entered by Team Penske but all were early retirements. But there was a fourth brand new Penske car in the race.

Friend and rival Pat Patrick had announced his intention to retire from racing after 1989. His sponsor Marlboro wanted to sponsor Team Penske and bring along Patrick's driver, Emerson Fittipaldi to Penske as well. In order to enable Patrick of having a fighting finish, Penske sold off two of the latest 1989-type Penske PC18s to Patrick. The Patrick Racing assets were taken over by his former driver Chip Ganassi. It became a dream season for Patrick Racing, winning five races and the CART championship. Among Fittipaldi's five victories was the Indianapolis 500. The best thing that could happen to Penske after all his own cars had retired was that his car factory had at least built the winning car.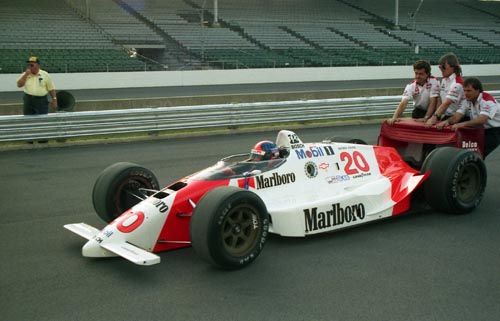 This Penske PC18 has a unique record. Roger has won "500s" with cars carrying his own name and with cars of different constructors. This is however the only Penske chassis that didn't win at Indianapolis for Roger Penske himself. This is the Patrick Racing PC18 that won at IMS in 1989, driven by Emerson Fittipaldi. (photo HG)
One year later Roger would be able to celebrate another pole position, won by his new recruit Fittipaldi. Rick Mears was second fastest. The race appeared to be another walkover by Fittipaldi, but in the later stages of the race his tyres began to blister, initially handing the race to Bobby Rahal and eventually Arie Luyendyk. Fittipaldi salvaged third place.

In 1991 something unusual happened to Team Penske. Rick Mears had his first-ever accident in practice at Indianapolis. It did not stop him from winning his sixth pole position. The race also went to Mears, making him the third driver ever winning four times at Indianapolis.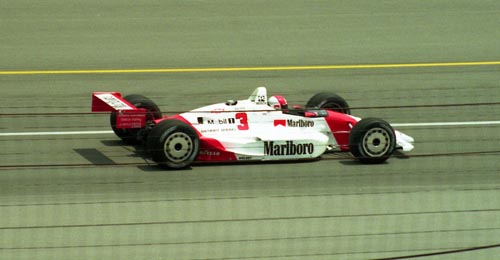 Rick Mears won his record sixth pole and a record-equalling fourth victory using this car. One year later he crashed it heavily in practice, when it was entered as a backup. (photo HG)
One year later Penske had an off year. The team had an exclusive weapon that was only available to them. His engine company Ilmor had released a new engine to replace the first generation of Chevy engines, by now retrospectively named the Chevy/A. The new engine, the Chevy/B, was lighter and smaller but only Team Penske had access to them. But the specially designed chassis for this engine, the PC21, didn't work properly at the Speedway and both Fittipaldi and Mears were rather uncompetitive. In the unusually cold race both cars retired at almost the very same moment when they became involved in accidents. This race turned out to be the last one at the Speedway for Penske's main man in the past years, Rick Mears. He announced his retirement from racing at the end of 1992.

Roger must have regretted the loss of his star driver because had Rick stayed on for two more years he appeared to have had two near-certain victories coming up as long as he would be in a Penske entry. Rick had waited five years to win his second 500 in 1984. His third victory was four years later (1988) and yet another three years later, in 1991, he took his fourth victory, all of them in Penske entries. Should the trend have continued then Rick was to win his fifth race another two years later (1993) and then win yet another time the following year (1994). This would have been the kind of 'unfair advantage' Roger Penske likes to have.

In 1993, Ilmor had released another update of its engine, now called Chevy/C. This version was made available to more teams that remained faithful to Chevrolet. By now, the allmighty Chevy had got serious opposition from the new Cosworth-designed and built Ford XB. Mansellmania was on a high that year and the top-line Ford teams filled the first ranks on the grid. On Race Day, however, Fittipaldi was in great shape and came out on top in a fierce battle with Nigel Mansell and Arie Luyendijk.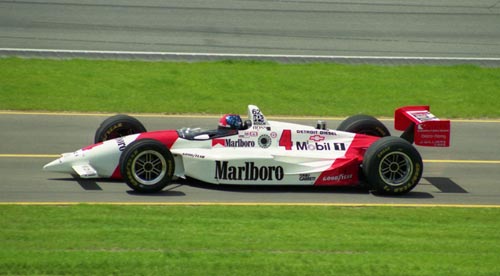 In the top 7 of 1993 at Indianapolis only one car didn't have a Ford XB as its engine: Fittipaldi's winning Penske-Chevy/C. (photo HG)
Penske Cars did sell off older cars again (although without the Chevy engines) after their successful 1988 season. Several examples of the '88 PC17 and '89 PC18 cars were entered by privateers in the following years. Some got Cosworth engines, others were fitted with Buicks. Brand new cars, however, were sold off rarely. Tony Bettenhausen managed to get one in 1993, including a deal to lease a Chevy /C engine. But he failed to equal Pat Patrick's achievement of beating the factory outfit.

Apart from Indianapolis, Penske won a number of races over the years. Also the number of National Championships won by Penske drivers was impressive. Curiously enough however, despite the stronghold Penske had at Indianapolis since 1988, the year from which the team used their own chassis again, the number of championships won by Penske drivers was... one! Danny Sullivan won the 1988 championship and that was it, since Emerson Fittipaldi won the CART championship with a Patrick-entered Penske chassis. But CART championships continued to elude Roger's own team, although he had two more 500s added to his tally since 1988. But since the Indianapolis 500 is of much more importance than all other CART races combined Roger probably didn't mind too much. Given the choice of winning at Indianapolis or taking the championship, there is no doubt that Roger like many other team owners prefers winning at Indy.

Despite the victory in 1993 (his ninth) Roger Penske was already planning how to win the next Indianapolis race. The new track lay-out had caused difficulties for drivers wanting to overtake in the corners. Roger, always keen to have an exclusive advantage, was given a suggestion that would assure his drivers a much easier time next year.

It wasn't an easy plan and it would cause quite a number of headaches.

But it was the kind of challenge that Roger Penske couldn't resist. His unstoppable thirst for Indy 500 victories caused him to participate in one of the most daring projects ever embarked upon to win a Memorial Day classic and create a legend topping anything else ever tried at Indianapolis and in motor racing in general.