Mercedosaurus Rex at Indianapolic Park
Part 16: Could the Mercedes Benz 500I have been stopped in time?
Author
Date
Related articles
March-Alfa Romeo 90CA - Fiasco Italo-Brittanico, by Henri Greuter
March-Porsche 90P - The last oddball at the Indianapolis Motor Speedway, by Henri Greuter
Penske-Mercedes PC23-500I - Mercedosaurus Rex at Indianapolic Park, by Henri Greuter
Who?

Bobby Rahal

What?

Rahal-Hogan Penske-Ilmor PC22

Where?

Indianapolis

When?

1994 Indianapolis 500 practice (May 17, 1994)
Why?
To say the Mercedes Benz 500I took everybody by surprise is putting it mildly. The announcement of its existence was perfectly planned. The 'purpose-designed pushrod' rule was a sleeper of a rule, ready to turn into a nightmare once somebody discovered its possibilities. And in 1993 this finally happened with the results for all to see in 1994.
At that time, there were discussions between Tony George and his IMS officials and the CART organisation. A clash about how the future direction of single-seater racing in the USA (including the Indianapolis 500 miles) was well on its way, and it appeared to escalate with the creation of two separate series. And then, all of a sudden that Mercedes engine appeared out of the blue.
USAC had the rights to introduce new rules or rule changes with immediate effect within its events. The Mercedes, however, appeared too late for USAC to do anything. Any sudden rule change against the Mercedes would appear so obviously one-sided that it would likely have met lots of disapproval within the racing world, other than from the other CART teams. It is also likely that the public wouldn't have liked to see this happen. Curiously enough, despite all the outcries about the existence of the engine, including among the race fans, there was still something of a noticeable feeling that people wanted to see this car in action.
IMS, however, was dependent on any actions by sanctioning body USAC. IMS had no choice but accept the Mercedes as it was and then just see what would happen. Should the Mercedes indeed be too fast, USAC could always act after all. But for the time being, it generated tremendous amounts of publicity which could be beneficial to the Speedway.
USAC's feelings about the engine itself were mixed. They had hoped to see some technical variety in the starting field but it should have been a bit different. USAC Technical Director Mike Devin summed it up when he said:
"We were hoping an American manufacturer would embrace this rule. We didn't figure it would Ilmor or Mercedes."
Devin probably hinted at attempts like that of Peter Greenfield and his company.
Roger Penske always stated that the rules were there for everyone to use and that what he had done wasn't unsportsmanlike. To some extent he is indeed right. There were, however, a few voices heard which pointed out that no other CART team was owned by a person who was the owner, part owner or share holder in the engine company that supplied him. For example, Newman-Haas and Ganassi Racing were considered the factory teams for Ford. But the influence of Carl Haas and/or Chip Ganassi on what Ford should do (or tell Cosworth what to do) was far less than the influence which Roger Penske had at Ilmor.
Another comment voiced about the engine was that it was a 'Penske-exclusive' deal. No other team had access to the engine. Only the team that already had shown itself to be the all-dominant force at Indianapolis in the past years had them. (How dominant? How about six wins in the last ten years and a seventh win for a Penske chassis entered by Patrick Racing?) There were feelings that (given their almost traditional superiority at Indianapolis) Team Penske really didn't need that engine to have an edge on their opponents.
The negative feelings about the Mercedes 500I engine might have been different had Penske provided some opposition for his team by making the engine available to at least one or two other Ilmor customers. Penske Racing, however, stated that use of the engine was something of a risk since it was such a brand new engine and that '500 mile' reliability couldn't be guaranteed yet. Given the fact that the 500I had to wait until the opening weekend of practice before surviving its first test over 500 miles, this comment made some sense.
It almost appeared as if the comment suggested that in order to defend the chances of Ilmor of winning the race, a number of Ilmor/D customers had to be in the starting field as well. There is something to say for such a feeling and theory. Nevertheless, one must wonder what the other regular Ilmor users would have decided if they had also been offered the use of the Mercedes Benz 500I engine. There is no doubt that had more engines been available to Penske's opponents there would have been less of an outcry about the Mercedes engine.
Although several people made accusations of sandbagging during the practice weeks there is enough evidence to accept this wasn't the case. The entire project was very short on time and many achievements required to take the decision to use the engine were achieved in the nick of time. If Team Penske had more time available, who knows what would have happened?
There is a point to defend when saying that if USAC had any plans for an instant rule change against the Penske-Mercedes after Pole Day, any such plan was practically impossible to do after Pole weekend. The man responsible for this was nobody else but Speedway president Tony George!
Another engine making its debut at Indianapolis in 1994 was the Honda Indy V8. This engine was used by Bobby Rahal and Mike Groff. The engine was, however, rather underpowered and after the first weekend of qualifying both Groff and Rahal were at the bottom of the list, in serious danger of being bumped from the field. The backup cars were Honda-powered as well and of course of no help either. And thus, 1986 winner Bobby Rahal was in danger of missing his second Indianapolis race in succession.
Tony George told the media that he regretted that a man like Rahal was in danger of missing the field again and stated that he hoped something could be worked out to avoid such!
Enter Roger Penske.
Apart from six Penske-Mercedes PC23s, he had also entered two '93 Penske PC22 chassis, one fitted with a Ilmor D engine, one with an Ilmor C+. The Ilmor C+ was an updated version of the 1993 C type engine.
Rahal and Penske made a deal in which those two PC22s were rented to Rahal-Hogan Racing and indeed, Rahal and Groff qualified these cars handsomely.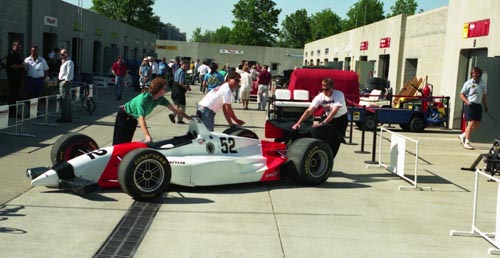 Tuesday May 17 and all of a sudden there's a Penske PC22-Ilmor/C+ in Gasoline Alley! Look how much lower and slimmer the engine cover on this car is compared to the 'Mercedosauruses'. (photo HG)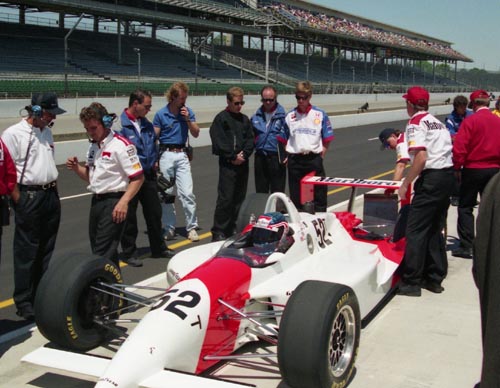 Paul Tracy was put in the car first on Tuesday May 17th in order to shake the car down before it was handed over to Bobby Rahal. (photo HG)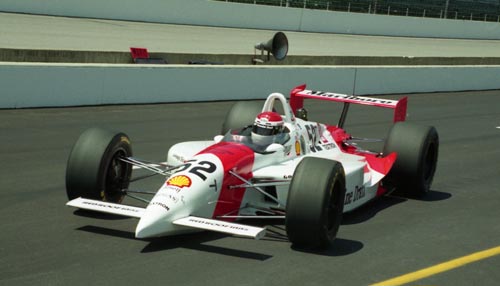 Bobby Rahal took over driver duties in the afternoon. (photo HG)
Rahal eventually finished third in the race.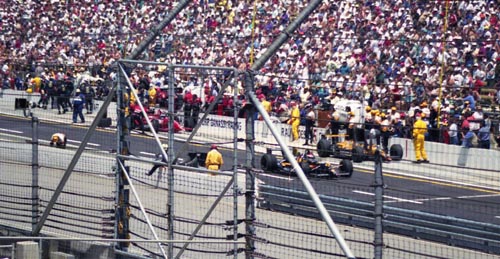 Taking pictures from the grandstand on race day is a nightmare. This is the best I can show of Bobby Rahal that day. (photo HG)
Imagine Roger Penske's feelings if USAC and the Indianapolis Motor Speedway had hit 'his' Mercedes engine with a last-minute penalty to reduce its power advantage. Especially if this had been done after he had helped fulfil Tony George's wish of seeing Bobby Rahal make the race after all.
This deal between Rahal/Hogan and Penske Racing could be seen as a great act by Roger Penske in order to protect his 'Mercedosauruses' from a last-minute rule change by USAC. But it has also been suggested that the entire deal was brokered by Philip Morris, the parent company of both Marlboro and Miller, the main sponsors of Penske and Rahal.
Nevertheless, I did hear from fans at the Speedway who believed, after Tony George had spoken out about Bobby Rahal, that hiring out the Penske back-up cars to Rahal-Hogan Racing certainly made it difficult for Tony George to use all of his influence to make USAC act against the Mercedes engine. At that time, I also believed this theory to be plausible and typical for a clever man like Roger Penske.
According to Nigel Beresford, the entire Penske team wasn't especially wary of Tony George. They were more worried about USAC making a sudden rule change on their own.
According to Beresford, hiring the backups out to Rahal was more likely a gesture by Penske to help out his friend Carl Hogan. Nigel also pointed out that Penske South, the NASCAR outfit run by Penske, was also sponsored by Miller Genuine Draft, Rahal's sponsor.
Although Beresford acknowledged the thought about why Penske might have provided the backups to Rahal was interesting, any thoughts about renting the backup cars to Rahal as an insurance against unforeseen acts by Tony George are less plausible and must be regarded as a kind of Penske paranoia.
AAA and USAC's basically praiseworthy efforts to enable more types of engines to be run in the 500-miles race had already resulted in complications in the past. The most serious ones were the Cummins Diesel in 1952 and the STP Turbines of '67 and '68. In those years, however, AAA and/or USAC could breathe again when the controversial entries failed on Race Day, even though the turbines came tantalizingly close. But it could be expected that, sooner or later, the equivalency formulae for the different types of engine would fail, and that a newcomer would take the race by storm. Although it wasn't in the manner USAC liked to see it happen, it happened eventually. And in that respect, USAC got what it deserved. They gambled on encouraging variety within the starting field, not realizing (or ignoring) that variety could lead to a kind of inequality on which they had no grip. The turbines should have been a lessonÖ
One may wonder what the reactions would have been if an American manufacturer had been behind the engine. Or, even better, if the engine had been genuinely 'Made in the USA'. Or if a more modest project like the Greenfield had paid off with a decent result, if not a victory. Somehow, I assume the outcry would have been less loud, in particular among the spectators and fans in general.
However, if the purpose-built pushrod was untouchable for USAC in time for the 1994 race, it definitely wasn't untouchable for 1995Ö