Mercedosaurus Rex at Indianapolic Park
Part 6: Indianapolis 1991 - Chevy And Rich Team owners
Author
Date
September 22, 2009; with September 25, 2014 additions
Related articles
March-Alfa Romeo 90CA - Fiasco Italo-Brittanico, by Henri Greuter
March-Porsche 90P - The last oddball at the Indianapolis Motor Speedway, by Henri Greuter
Penske-Mercedes PC23-500I - Mercedosaurus Rex at Indianapolic Park, by Henri Greuter
Who?

Rick Mears

What?

Penske-Chevrolet PC20

Where?

Indianapolis

When?

1991 Indianapolis 500, Pole Day
Why?
Despite some opposition, the engine of choice to be successful at Indianapolis since 1981 had been the 2.65-litre turbocharged Cosworth DFX. Up until about 1989 teams wanting to participate in CART and at Indy were able to obtain a Cossie for their purposes, but since 1987 this engine was being overwhelmed by more modern designs, the Ilmor-Chevy in particular.

Mentioning the Cosworth, introduced in 1975, it wasnít in general supply either during its first years. But eventually they became generally available to those who could afford them and as far as I could deduct, there were never any real problems with the supply of Cosworths.

In the days before the Cosworth took over, Offies were no problem either and generally available to everyone. The Foyt/Ford V8 remained AJís engine almost exclusively, although from 1974 on, when boost limits were introduced, there was talk about teams trying their Foyts again. Definitely not readily available to anyone, I rarely heard about this being a problem to anyone involved in racing at the time.

Things changed, however, when the Ilmor-Chevy took control.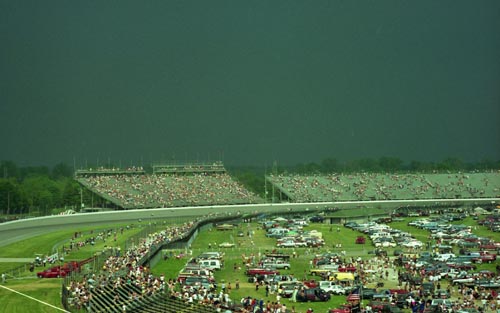 Dark clouds above Indianapolis, not just 'so to speak' but literally as well. Coming from the city of Indianapolis this rainstorm rushed in on Pole Day, effectively ending qualifying prematurely. This was what the crowd in Turn 4 saw when Roger Penske called off Fittipaldi's qualifying attempt in order to have a run for the pole later on in the afternoon. None of us could understand The Captainís decision but of course, he didnít see what we saw rushing in. (photo HG)
In a preview to the 1987 CART season printed in a Dutch newspaper, Arie Luyendijk was quoted as expecting the arrival of Porsche and Ferrari to lead to increasing costs to remain competitive. Arie also anticipated that the input of these two factory efforts would raise the standards of performance in the series. But from the following year on the brand new lighter Chevy engine would be generally available too and it had a head start on Ferrari and Porsche for the time being.

Had Luyendyk been right and had the Chevy indeed been available to all takers from 1988, the history of single-seater racing in the USA may well have gone an entirely different path. But the Chevy wasn't readily available yet from 1988 on, since only five drivers had access to it all season long, with a sixth at Indianapolis. The Chevy, and to a lesser extend the Judd V8, remained not readily available for interested customers. Even worse, from 1990 on Chevies were made available for lease only to selected teams. Granted, the rules didn't anywhere state that a manufacturer had to supply each and every customer, so Ilmor-Chevy was entirely entitled to only supply selected teams. But when worthwile opposition failed to materialise it was becoming an unexpected problem.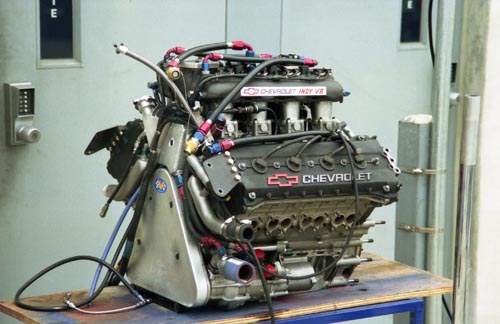 Yes, I saw one example of the Chevies present at the Speedway but there should have been many more to satisfy the needs of all teams and driversÖ (photo HG)
It was almost impossible for a team only wanting to enter Indy (and there were a number of those) to obtain a decent engine that could bring them into the field and have them stand a chance against the top CART teams. For them, the availability of Buick engines was an important reason to participate in the Month of May to begin with since using a Buick instead of a Cosworth could be beneficial to qualifying for the race. The Buick was more powerful than a Cosworth, thus enabling faster lap speeds in qualifying. Using the more reliable Cosworth made no sense if it wasnít fast enough to get you into the starting field!

But it took a lot of luck on race day to still be around at the end if you were using a Buick. Nevertheless, for the smaller teams the stock blocks were a vital component to their presence at the Speedway during May, and USAC aimed to help such small teams by giving the stockblock-based engines the extra capacity and higher turbo boost advantages they had.

Especially in 1991, when the ď500Ē had less entrants compared to the years before, the lack of enough competitive engines to go around had created problems. A number of veteran drivers who were only racing at Indianapolis but crowd favourites nonetheless were unable to obtain any decent cars. Several top teams that in the past made their back-up cars available to such drivers had been told by Ilmor-Chevrolet not to rent out their Chevy-powered back-up cars since Ilmor didn't have the facilities to service that many Ilmor engines.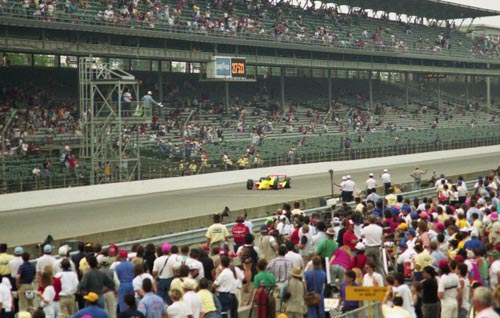 History was made in 1991 when Willy T Ribbs qualified for the race,
the first Afro-American ever to do so. (photo HG)
Chevrolet's dominance eventually began to backfire on them, the feelings towards them becoming increasingly negative. Even their own slogan You canít win without one, true as it was, began to work against them. Being unopposed by the opposition was one thing, restricting their own numbers and therefore reducing the number of hopefuls even further was even less appreciated. Chevrolet truly got a hard time from the Thursday of the second week of practice on.

On that day, UNO/Granatelli Racing announced they wouldn't field a second car that was kind of earmarked for Al Unser Sr, lack of sufficient engines being given as the reason. Al Sr reacted utterly disappointed and rather outspoken and a number of people agreed with him. Remember that he had been forced to surrender any chance on successive CART titles in 1986 when he became the prime test driver for the Chevrolet engine in its first year of existence.

Arie Luyendijk in his back-up car.
Did he sort it out for Al Unser in case Ilmor was to give its permission? (photo HG)
One day some spectators made their feelings known by bringing along a banner explaining what, in their view, CART was the abbreviation of: Chevy And Rich Team owners.

Now to some extend, Chevrolet could be excused for their statement that their engine supply was having difficulty keeping up with demand. When reading the reports about the 1991 practice sessions there are quite a number of reports on a fair amount of Chevies being blown to pieces and/or needing service. The Ilmor service outlets were kept busy during May.

USAC, IMS and many racing fans were convinced. Something had to be done in order to make more suitable competitive engines available to everyone who wanted and needed them. And if that could be arranged by creating an alternative engine option in addition to the regular 2.65-litre quadcams, then that option needed to be studied as well.

For a while there was talk about CART and Indy adopting the very same engine formula as used in Formula 1 and sportscar racing: 3.5-litre normally aspirated engines with freedom as to the amount of cylinders used. Since a number of such engines were in existence already it was considered an interesting option if these engines indeed could be used on yet another platform of international racing.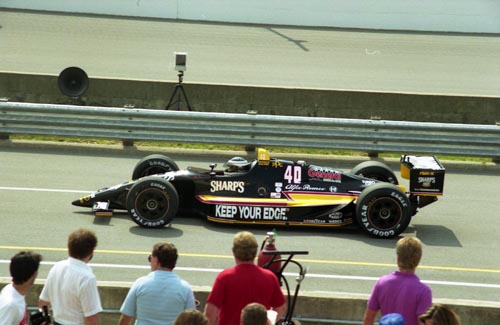 Roberto Guerrero was one of the unemployed drivers managing to find a drive during the second weekend of practice. He got the second Patrick Racing Lola-Alfa on the Wednesday of that week.
Here he is seen on Friday May 17. This was only a temporary paint job, the car's colours changed quite a bit during the weekend. (photo HG)
There was a lot of talking about new engine suppliers being willing to become involved at Indianapolis again should such a rule change occur. One name I vividly remember being spoken about as willing to participate was Maserati.

I was at Indianapolis in 1991 and on one memorable occasion I had a talk with Alfa Romeo PR manager Paul Bryan that Iím not going to forget easily. The talks about the new engine rules came up between us as well and I told Bryan I felt the 3.5-litres to be a good option for Alfa Romeo. He asked me why and I explained that I knew Alfa Romeo already had a 3.5-litre V10 that could be used in an improved, modified version and, if necessary, the Ferrari V12 could be rebadged as an Alfa Romeo as well. Bryan told me that both of these engines were unsuited to Indianapolis since they weren't built to handle 500-mile endurance marathons. Besides that, the Alfa V10 and Ferrari V12 were built to use gasoline fuel while USAC/CART would most likely opt for methanol-fuelled engines yet again. The existing 3.5-litre engines everyone talked about as being already available all used gasoline or gasoline-based fuels. It would take quite some effort to make them suitable for methanol. So Bryan expected that talks about introducing the 3.5-litre atmo engines to CART and Indianapolis would probably come to nothing. On my question whether Alfa Romeo would be willing to make more engines available to counter the shortage Bryan answered that should a team come to Alfa willing to pay for engines such could indeed be possible.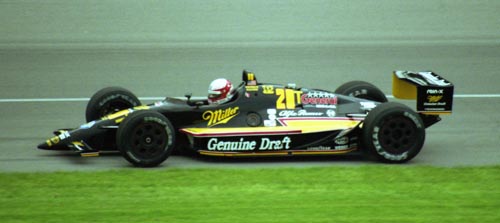 Danny Sullivan drove the Patrick Racing Lola-Alfa T91-01. (photo HG)
Paul Bryan turned out to be right. Eventually the plan to adopt the 3.5-litre atmo engines was scrapped. Given as the most important reason was that the undetermined number of cylinders would create havoc for chassis builders, who would have to build cars for a V8, V10 or even a V12 and all the logistics involved to enable that. At that time, the F1 rules didn't specify an engine configuration yet and as a result V8, V10 and V12 engines were used. (And even one type of engine differed in V angle and other major parameters.) Think about it: would a company like Lola build different chassis designed around each type of engine or should they decide on building a compromise chassis that could accept all three varieties, yet remained a compromise which stood no chance against a chassis purposely designed around one type of engine like, for example, the Penske? Relatively minor differences between two different kinds of engines could be handled by Lola. Approval of that was seen in 1991 when, for the first time, they built a bespoke version of their T91/01 to be used for the Buick V6 engine. But designing a basic chassis and then building variations on the theme for use with either a compact V8 or a lengthy V12?

At that time there was only one customer chassis manufacturer left in business (Lola) while Penske and Truesports built their own chassis. But all of these chassis were very much alike. Which was an advantage in the end because it made them basically suitable for all the different types of V8 engines and the stockblock V6s.

So the current engine rules were retained after all. But USAC did study at other manners to ensure the influx of other competitive engines. New options were considered but they also looked thoroughly at what could be done with existing options such as the pushrods.

The 'pushrod' engine clearly needed yet another favour. And thus, during 1991 rule changes were made allowing a pushrod engine no longer being required to be a production-based block derivative. Instead, a clean-sheet design was permitted as long as the engine had two valves per cylinder, operated by pushrods and a single camshaft, and no more than eight cylinders. It was hoped that these relaxations of the rules would encourage other engine builders and hotrod specialists to join. But for the time being nothing happened.

Addition made in September 2014: In his book Beast, Jade Gurss provided information that the rulemaking situation with respect to the pushrod engines was slightly different, with other factors not mentioned here being involved. I refer to the addendum added to Part 22 for more details about this situation.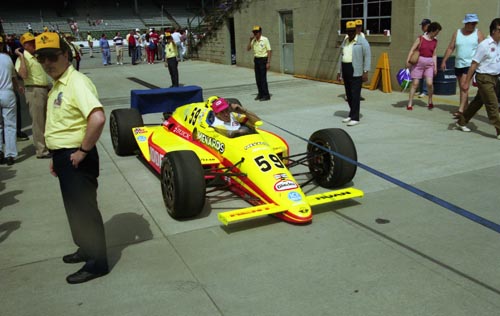 Tom Sneva was another crowd favourite unable to get a 1990 or 1991 car, let alone a Chevy-powered one. He accepted this í89 Lola-Buick, a third-string Menard entry. He qualified the car on Saturday, May 18, but was one of two drivers who got bumped the next day. (photo HG)
Another problem for USAC and CART was their wanting to avoid an engine builder concentrating on a single team capable of overwhelming the entire opposition. So CART enforced that a new engine builder had to provide at least three cars with engines in its first year and at least six from the second year on. Only with approval of CART and/or USAC this rule could be waived. This, for example, allowed Honda's CART and Indianapolis debut in 1994.

USAC then realized that this particular rule could hamper those companies wanting to try their luck with a newly developed pushrod engine since they would lack the funding to field that many cars. In all its wisdom USAC created the so called Development Category, in which engine manufacturers could have their engine registered as a development engine. This allowed them to supply a single team, or even a single car with their engine.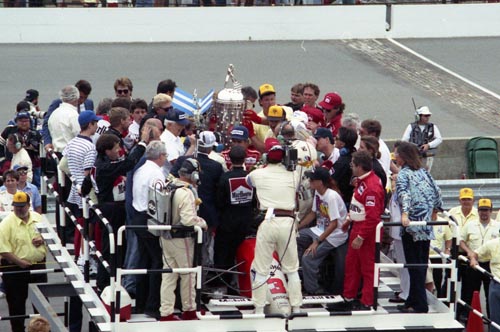 Rick Mears became the third four-time winner in the history of the Speedway. (photo HG)
All of this failed to ensure an instant increase in available engines but both USAC and CART could look forward to the fact that Chevrolet would again face serious opposition from Ford, who had commissioned a new engine with Cosworth. Which, even if it happened with technology ďMade in EnglandĒ, meant another battle between Detroit's two big companies.

Yes, USAC's intentions to help smaller engine builders or even hotrod companies build one-off engines were good and sincere. But all of their intentions were in fact a recipe for disaster, a genie in a bottle ready to be uncorked by clever men understanding the rules better than the rule makers had originally intended to. It was only a matter of waiting before the people and companies recognizing the opportunity would take advantage of them.

And so, during May 1993 the bottle was taken up and its cork was duly testedÖ