Mercedosaurus Rex at Indianapolic Park
Part 12: The unfair advantage and when others have it
Author
Date
December 4, 2009; updated December 12, 2012
Related articles
March-Alfa Romeo 90CA - Fiasco Italo-Brittanico, by Henri Greuter
March-Porsche 90P - The last oddball at the Indianapolis Motor Speedway, by Henri Greuter
Penske-Mercedes PC23-500I - Mercedosaurus Rex at Indianapolic Park, by Henri Greuter
Who?

Teo Fabi

What?

March-Porsche 90P

Where?

Indianapolis

When?

1990 Indianapolis 500
Why?
An aspect of Penske Racing which is difficult to separate from its efforts is 'the unfair advantage', Team Penske's ever persistent search for perfection and obtaining the decisive advantage over its opponents.
The expression came from what is probably one of the two drivers who will be forever associated with Penske: Mark Donohue. It is however a bit of an inappropriate expression since not every advantage Team Penske created over the years was unfair. In their early years at Indianapolis Team Penske used cars and engines offered for sale and most often generally available. They spent more money however on fine tuning the equipment to get the most out of it. What is unfair about that?
A lot of criticism is uttered about Porsche's guilt of killing off the Can-Am series with their turbocharged 917, entered and ran by Penske Racing. The rules enabled it; there was no ban on turbocharged engines. The Porsche domination replaced a McLaren factory domination (remember the expression 'The Bruce and Denny Show'?) and although the field was filled with McLarens, only the works entries were the very latest ones; the opposition had to help themselves with older models. It can be argued that factory support by the McLaren factory or the Porsche factory is a difference, given the scale and the background of the two companies. And if we separate chassis and engine from each other with respect to availability and support it must be admitted that the Detroit V8s used by the majority of Can-Am teams were far more readily available compared to the Porsche flat-twelves in whatever configuration or size, either normally aspirated or turbocharged.
One example of searching for an advantage by Team Penske is little known. Generally, Parnelli Jones and his team are credited for bringing the Cosworth DFX to Indianapolis and Champcar racing. It is however little known that Roger Penske was the man who ordered the first DFX engines but eventually sold them off because of having an even better plan.
Having his own (positive) experiences with Porsche during the Can-Am days as well as the early part of the career of the 1973 911 Carrera RS, and knowing that Porsche was also working on turbocharged engines of capacities that were within the region of 2.65 litre, Penske tried to interest Porsche in supplying engines for his Indycars. But despite some investigations and preparations, this eventually never happened.
When Team Penske began to build their own Indycars, that was nothing special either. Other teams did the same (think about the Patrick Wildcats, Foyt's Coyotes, the Parnellis and so on). Older cars were sold off over the years (there were a number of ex-Penske McLaren M16s raced by others in the following years) but once they began to build their own cars it was obvious that Penske was not into the car business to provide others with the latest equipment.
It can also be said that Team Penske never complained about certain teams having an advantage equipment-wise. For example, when Jim Hall brought the Chaparral into CART, all that Penske did was make sure that his next car was also a full ground-effects machine.
His participation in the Ilmor project is another example of searching for an advantage. Initially it was a risk and the years 1986 and 1987 didn't bring Penske very much. Even that 1987 "500" victory was more down to luck than to careful planning. Remember that the winning third car was Cosworth-powered.
From 1989 on, when it was clear that the Chevrolet engine was the one to have it became a bit complicated for Roger. Ilmor-Chevy was unable to supply enough engines and had to restrict themselves to a certain amount of engine deals. And with Roger owning 25% of Ilmor it could be seen as if he was involved in the creation of an elite class in CART, the Chevy club, while, for example, Carl Haas (Newman-Haas) supplied as many new Lolas as he was asked to do. Eventually, from 1989 on he (and Lola) had to supply at least three quarters, if not more, of the field while March had lost its share of the customer market.
I don't know what Roger Penske's influence has been on the increasing number of Chevy deals over the years that the Ilmor/A was used or if he could have this number being increased.
The arrival of the Ilmor/B may cause some thoughts since it was available to just one team: Penske. However, the new /C engine introduced one year later was instantly available to all of Ilmor's primary customers.
So it can be concluded that, in general, Penske's 'unfair' advantage was rarely unfair. It can also be concluded that the team rarely opposed to what could be considered unfair advantages by others, often because they had been in similar position.
There is however one occasion in which there is some evidence that Team Penske was involved when another team created an advantage for themselves and was told to give it up: when Porsche entered the CART scene they eventually did so using March 88C type chassis instead of their own 2708 chassis.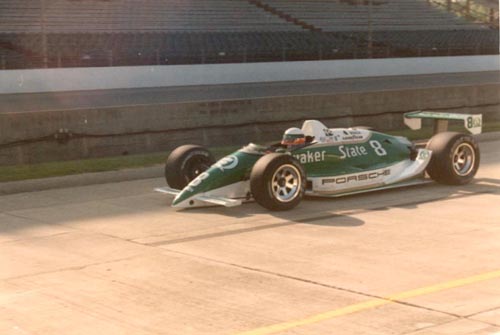 When Porsche got involved in the March misery of 1988 few teams worried about their CART efforts initially…
(photo HG)
From 1989 on they had an agreement with March to have a car exclusively developed for them. The Porsche V8 engine wasn't rated as good as the Ilmor-Chevy but nonetheless, the Porsche team made good progress during the 1989 season, winning the race at Mid-Ohio. Knowing that the engine wasn't on par with the Chevy, it meant that the March 89P was more than decent.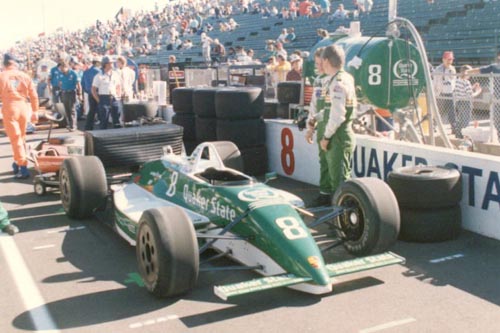 … but when the first signs came that Porsche's CART project was getting on the right track and more success was dawning with the 89P… (photo HG)
Early in 1990 CART had announced that from 1991 on it was permitted to build all-carbon fibre monocoques for CART racers. They had also announced that, in anticipation of this rule waivers could be given to those companies who made the request to build such an all carbonfibre monocoque for the 1990 season already. This opened an advantage to Porsche.
Partner March was all familiar with building all-carbon monocoques for their Formula 1 efforts. Building tens and tens of all-carbon monocoques for CART customers was more difficult but building a few for the CART Porsche program was of course much less of a problem. So March applied for the dispensation to build an all-carbon monocoque for their new Porsche-powered CART car. This permission was given.
But by the start of the new year something happened.
In January there had been a CART board meeting which meant that just about every team in CART had a representative. In that meeting there was opposition against the waiver for March-Porsche. The opposition came from Penske Racing and Newman-Haas, both these two teams being associated with CART chassis builders.
While at Indianapolis that year, I had two conversations with people about the troubles Porsche had run into. I had always been sympathetic to Porsche's racing efforts due to my love for turbocharging technology and the fact that seeing the 917 on TV winning at Le Mans in 1970 got me interested in motor racing. In one of these talks I had I was told that the ban on all-carbon monocoques was primarily a result of objections by Team Penske, on the basis that they had anticipated being able to build all-carbon monocoques themselves too but then found out that it wasn't that easy after all and that they lacked sufficient knowledge and infrastructure. More on the exact situation at Penske at that time further on. In the other talk I had, I was told that a number of CART team owners had become very wary about the Porsche efforts since it was one of only two fully factory-supported projects, with exclusive hardware.
Now in 1988 Porsche had not been much of a worry yet but during 1989 it was more than obvious that the team was gaining strength. And they could become even stronger, or worse, dominant like they had been in the past in other formulae because of being the only team with the exclusive advantage of an all-carbon monocoque, a technical detail offering big benefits to a team with access to the technology that others didn't have as yet. Knowing a bit about what happened 10 years early, I wasn't that surprised to hear things like this.
So those were two reasons to backtrack on the decision to grant permission on building all-carbon monocoques in 1990 already, one of them involving Team Penske.
If anything, the plan worked, the March-Porsche 90P had to be converted to comply to the rules and that was, among other factors, part of its downfall.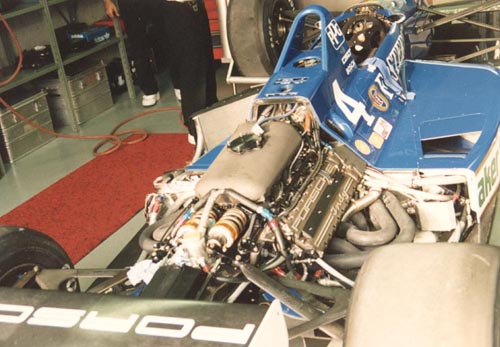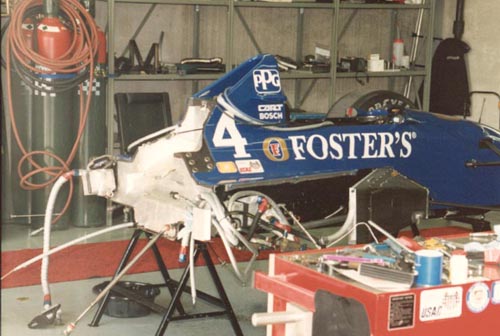 The chance for Porsche success was reduced when the highly innovate newcomer was outlawed. Once complying to the rules it became a participant that wasn't to be feared anymore… (photo HG)
At that time (1990) changing a design into an all-carbon monocoque was not that easy and a team which was designing a rules-legal aluminium/carbon top car for the following season was pretty much committed to it once they were at a certain point in the process. Penske Racing had facilities to built carbonfibre parts, so it can therefore be suspected that any objections coming from Penske Racing regarding the acceptance of carbonfibre monocoques wasn't based on a lack of facilities at the factory but the lack of time to start all over again and doing the same.
It is probable that the protest against the all-carbon monocoque was something that came from Teddy Mayer, the former McLaren team boss who had been working for Penske since the late 80s. Mayer was the teams representative in the rule-making process, together with Kirk Russell. At that time, CART was pretty much being directed by the majority of the participating teams that had a CART franchise. (Interestingly enough, one of the top teams and CART founders, Pat Patrick had no such a franchise anymore!) If Team Penske was indeed involved in having the all-carbon monocoque outlawed after all, one suspects that it was more likely to have been done by Teddy Mayer. But also, if Mayer had indeed been the man, no doubt that he did so with the full support of Roger Penske.
This all might read as rather negative on Teddy Mayer, but even though it is beyond the topic of this piece, there is also evidence that on occasion Mayer didn't try to change the opinion of the CART board about bans on certain kinds of technology which Team Penske had ready to try on their cars. Teddy Mayer may well have been the representative for Team Penske, but he definitely didn't do anything he could have done to gain advantages exclusive to Team Penske.
How much of the reasons for the ban on the all-carbon March 90P monocoque is true and how much influence did Team Penske have on the banning of an 'unfair advantage' that was not in their possession this time?
Granted, the all-carbon monocoque wasn't complying to the rules yet in 1990, but permission was obtained from CART and thus it was legal at that time. Say about the March-Porsche what you want but it wasn't a secret and common knowledge within the CART ranks.
Seen in that light, I can see why race fans and other people criticized Team Penske back in 1994 when the news about the pushrod project came out. Team Penske had gained an advantage that was indeed legal but it was done in all secrecy to avoid giving anyone a clue and prevent politics from interfering in time as had happened with Porsche in 1990.
The other side speaks out: more on the exact situation at Team Penske in 1990
One thing regarding this chapter that was difficult to sort out was the question of how much influence Team Penske had in reversing the rules so that the March-Porsche 90P was killed off. Most of the accusations suggesting Penske's involvement were told to me by non-Team Penske people, so the possibility can't be discarded that this was a matter of sour grapes. Finding out how things really happened wasn't a priority for this series but sometimes, as I have seen happening before with this project, luck is turning my way. Instead of going to the mountain, the mountain is coming to me.
Late 2012 I was contacted by Nigel Bennett, Penske designer since 1988 and responsible for both the 1990 and 1994 cars. According to Bennett my source that had stated that Penske was unable to produce an all-carbon monocoque was wrong. The situation was in fact entirely different. Needless to say I asked Bennett if he would like to on record with this to set things straight. Fortunately, he agreed and this is what he wrote:
"As you may know I did my first carbon top chassis with the 1982 Ensign F1 car, which was developed into the Theodore Indycars supplied to George Bignotti. All my subsequent Lola and Penske designs had also used carbon top half chassis. I had not gone to carbon bottom halves because in the early 80s there was nervousness about the energy absorption of carbon/honeycomb compared to aluminium/honeycomb. In CART I had several discussions with Kirk Russell about the likely benefits of all-carbon chassis and I undertook a series of tests for CART over the winter of 1988 and 1989. We made a series of rectangular boxes in various combinations of materials, 'crashed' them and measured the deformation and energy absorbed. This resulted in my informing Kirk that a carbon composite structure was indeed safer (for similar weight) than an ali one. This resulted in full-carbon chassis being allowed for the 1991 season, but as you say possibly with some sort of dispensation for those manufacturers already going along that route."
Bennett also gave insight into how he wanted to make use of this upcoming rule change.
"Why there was this woolliness I am not sure, but I lobbied Roger Penske and said I wanted to do a full-carbon chassis for 1990. He was nervous about the legality as he said there was doubt about whether it would be legal for 1990 or not, and asked me to stick with the half-and-half construction. So at that time of Roger asking me to stay with the ali bottom half there was plenty of time to go either way. Technically there was no difficulty at all, as the bottom half was a far easier job, both at the pattern and mould stage as well as from a design point of view, than the top half with its cockpit opening, fuel cell fillers, roll-over bar mounts, etc. And we had a very expert composite department ably led by Don Beresford, Nigel's father, who had come to us from McLaren."
So, based on this explanation by Nigel Bennett, the suggestion that lack of in-house knowledge and facilities at Team Penske was the reason why Penske played a part in delaying the rule that would allow all-carbon monocoques is incorrect. If Penske had indeed been behind the rule reversal the conclusion must be that it must have been for other reasons which, for the time being, remain unclear. However, denying an opponent the opportunity to gain an exclusive advantage that Penske was unable to follow instantly was definitely not the case.
Consulting the chapter on Porsche-powered Indycars in Karl Ludvigsen's Porsche: Excellence Was Expected showed that the rule change allowing all-carbon monocoques was made in April 1989. According to Ludvigsen these rules would have been valid for 1990. Other sources I read at the time said that such monocoques were permitted from 1991 on but with waivers for 1990 granted to manufacturers applying for them. Perhaps the problem lies herein: permission could be obtained.
Could!
'Could' is by no means as certain as 'can' or 'will'. It suggests there wasn't a full 100% certainty that a 1990 waiver for an all-carbon monocoque would have been given. It needed a decision by others.
And, of course, if a decision is needed you can't exclude the fact that the result is influenced by the little matter of who is making the request. In that case, given its history, Porsche was pretty vulnerable in putting its fate in the hands of its fellow competitors. Taking that into consideration, it wouldn't have been strange when Teddy Mayer as Team Penske's representative simply joined the other teams in their veto.
If these feelings about Porsche were the main reason for resistance among the other competitors, it remains speculative which other arguments were involved. However, Bennett came up with a thought that is worth mentioning.
"In my opinion, and this is guesswork, the word manufacturer may be the key. March were selling virtually no Indycars that year apart from the Porsche (and Alfa Romeo) project(s). Lola were selling in quantity, and Penske Cars had a few customer cars. Lola with their customer base would have to start production very early, and I suspect Carl Haas would have lost customers if the project had to be delayed with a change of plan and the required design and tooling time. So it could be, and as I say this is guesswork, that the real objection came from Carl, and Penske Cars status as a manufacturer was arguable so Roger joined forces with Carl."
"So Roger joined forces with Carl." That statement needs some explanation.
When the rule changes was reversed early 1990, Autosport magazine published an article in its January 11 edition (page 10, "March eligibility wrangle") from which I quote the following part. This appears to give a better view on the situation as it was:
A dispute has erupted in CART concerning the legality of March's new Indycar chassis. The new March 90P is constructed from carbon fibre, without the honeycomb bathtub required until now. Both Roger Penske and Lola equipped Carl Haas have complained a bout a dispensation granted to March for its 1990 cars by CART's technical director Kirk Russell. Last year's CART rule book stated that an all-carbon Indycar chassis could only be built subject to the technical director's approval. This clause has been deleted however from CART's provisional 1990 rules. However, at the same time technical director Russell has approved March's carbon fibre chassis, subject to it complying with crash test.
One week later, Autosport published the news that the 90P was banned. In the article it reads that March's representative Dave Reeves "had presented his case to CART but the all-carbon chassis was overwhelmingly voted down by CART's 22 man board of directors."
The article also stated that:
Reeves added that his disagreements were with CART's recently expanded board of directors rather than technical director Kirk Russell. "I think he has behaved impeccably throughout this whole thing", added Reeves. "He is the one guy who has really listened to our case and tried to look at it in a sporting and responsible manner."
So one thing is for certain. Team Penske and its partner Ilmor did a much better job in 'using' the rules for obtaining and retaining an advantage than Porsche managed in 1990. Had the 'Porsche affair' perhaps inspired all people involved in the Ilmor 265E project to remain silent and secretive as long as they possibly could?