Mercedosaurus Rex at Indianapolic Park
Part 2: Ilmor Engineering at Indianapolis
Author
Date
Related articles
March-Alfa Romeo 90CA - Fiasco Italo-Brittanico, by Henri Greuter
March-Porsche 90P - The last oddball at the Indianapolis Motor Speedway, by Henri Greuter
Penske-Mercedes PC23-500I - Mercedosaurus Rex at Indianapolic Park, by Henri Greuter
'Who?'

Ilmor265A (079) in Lola T90-01 HU0016

What?

Arie Luyendijk's 1990 Indy-winning Ilmor engine

Where?

Gasoline Alley, Indianapolis

When?

May 20, 1990
Why?
A lot has been written about Ilmor Engineering and its history already - and in great detail. So this article will focus the company's Indianapolis activities. I include it in order to provide something of a background about the company that built the most remarkable Indycar engine to have participated in the nineties at Indianapolis.

The Ilmor name is built up from the names of founders Mario Illien and Paul Morgan. Both were engine specialists and had been involved with the Cosworth DFX programme. They felt it was possible to build a better engine and approached Roger Penske about getting involved. The company was founded in 1983 and in business from early 1984.

Chevrolet got involved as a naming sponsor and the design work on the engine started with a clean sheet of paper. Not since the Winfield/Novi V8 that debuted at the Speedway in 1941 had an Indianapolis or Indycar engine been designed from scratch.

The new engine had a lot in common with the Cosworth but also featured several significant differences, the most obvious being the camshaft driving being located at the flywheel side instead of at the front. It was to be known as the Chevrolet Indy V8.

Roger Penske had exclusive use of the engine in 1986, its first year of service. He fielded it in a purpose-designed chassis, the Penske PC15. At the time however, Roger's team was having difficulties designing and building a decent chassis so the engine's true performance wasn't easy to validate. Both engine and chassis would have been helped if their progress could have been compared with other similar chassis or engines.

Al Unser Sr qualified the PC15 sixth at Indianapolis and was out of the race after 149 laps, having suffered from engine vibrations. Progress didn't come easily but came all the same. The engine was powerful yet unreliable. Curiously, the main problems were related to the camshaft drives, something Morgan and Illien had hoped to avoid by adopting flywheel-side camshaft drive.

Ilmor decided on making the engine available to more customers in 1987. Some of the top teams were interested in using it. For 1987, apart from Penske drivers Rick Mears and Danny Sullivan, Mario Andretti's Newman-Haas entry and Pat Patrick's cars driven by Emerson Fittipaldi and Kevin Cogan were Chevy-powered as well. Long Beach 1987 gave the Ilmor-Chevy its first victory, courtesy of Mario Andretti.

A sixth Chevy-powered car was expected at Indianapolis where Danny Ongais was to drive a third Penske entry. But he had a massive crash in his PC16 and was unable to race. Roger withdrew his remaining PC16s and rushed in March 86C chassis. Sullivan and Mears got Chevies but there weren't enough engines to go around, so the third 86C retained its Cosworth. That car went to Al Unser Sr. Ultimate of ironies: Unser went on to win the race! But only after Mario Andretti had retired after having led 171 of the first 178 laps. Mario had won pole position too and had been the fastest driver all month long. As long as it held together, the Chevrolet meant business…

A number of reliability issues remained a worry all season long but once the season was over, Ilmor could look back on five victories, including a 500-mile victory at Pocono. But for 1988 they had good hope to improve that all-important reliability with a major modification of the valve train. This indeed happened. The Chevy was reliable and near invincible from then on. Team Penske finally had a car that was equal to and often dominant over anything that Lola and March could offer. The Penske-Chevy PC17 won the majority of the races and the CART title, courtesy of Danny Sullivan.

Funnily enough, the majority of race fans remember the Ilmor-Chevy for being utterly dominant. The difficult beginning is rarely mentioned but it was a trying time for everyone involved. When I contacted Scott Roembke, a prominent member of Patrick Racing in the late eighties, about another project I was working on, I mentioned that according to my research he had been involved in a number of difficult projects. Roembke reacted by mentioning a few. "Yes, my career has been full of fun. [...] development of the Chevy A engine (people forget how many were blown up in development)."

From here I will focus on Ilmor's achievements at Indianapolis.

Early 1987 there were talks about the Chevrolet being generally available but such was not the case. That would be much later, and only to some extent. In the light of what eventually happened to North American single-seater racing it can be argued that it was too late by then.

For 1988 Ilmor still had only enough facilities to provide five drivers with engines during the CART season and a 6th (the third Penske entry) at Indianapolis. Patrick Racing trimmed down to a single car that season but the engine contract went over to the Rick Galles Team with driver Al Unser Jr.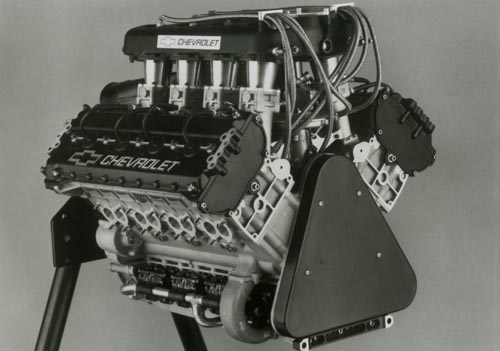 The 'official picture' of the 1988 Ilmor-Chevy as found in the Chevrolet press kit.
At Indianapolis the Penske team swept the entire front row, Mario was fourth fastest and Al Jr fifth fastest. Fittipaldi in the Patrick entry was 8th fastest. Mears, Fittipaldi and Unser Sr occupied the podium for Ilmor.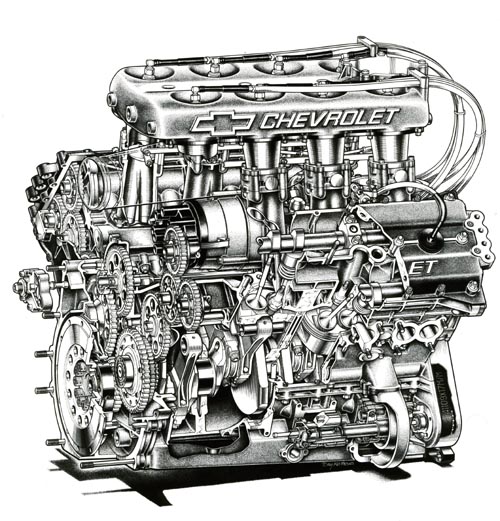 The Chevrolet press kit also contained this cutaway drawing, made by well-known artist Tony Matthews.
One more Ilmor-Chevy entry joined the field in 1989, so there were six in the entire series, and a seventh at Indy, since Michael Andretti had joined his father at Newman-Haas Racing, the team fielding a second Lola-Chevy. Rick Mears won the pole, Fittipaldi the race for Ilmor in what was supposed to be the final year for Patrick Racing.

Patrick Racing didn't continue in its 1989 shape, Their driver (defending "500" and CART champ) Fittipaldi became a third driver at Penske for the entire 1990 CART series. The team's infrastructure was taken over by Chip Ganassi, who retained the Chevy deal for his driver Eddie Cheever.

The new team founded by Pat Patrick had become the Alfa Romeo factory team and in order to assist Alfa's progress Patrick had arranged at least one, if not two of his Ilmors to be brought over to Italy in order to be inspected by Alfa's engineers. Because of this, Ilmor and Chevrolet changed their supply policy and instead of buying the engines, customers could only lease them, which meant that they remained the property of Ilmor.

For 1990 the number of Ilmor users raised to ten for the full season and Indianapolis. The Kraco team, entering Bobby Rahal, merged with Team Galles and was rewarded with a Chevy deal. A.J. Foyt was also given a Chevy. Initially his engines would be coming out of the pool of engines owned by Newman-Haas Racing but eventually Foyt got his own contract. The final beneficiary was Team Shierson with driver Arie Luyendijk.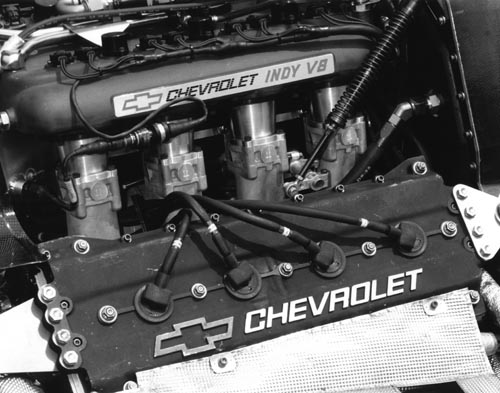 This picture was found in the 1990 Chevrolet press kit.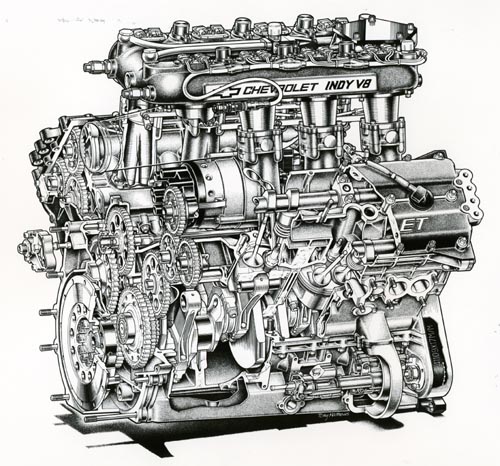 A cutaway drawing of the 1990 engine by artist Tony Matthews was also included in the 1990 kit.
Ilmor `old hand` Fittipaldi, now driving for Penske, won the pole, Luyendijk and Rahal, Ilmor's new kids on the block, claimed the first two positions in the race, ahead of Fittipaldi.

In 1991 Ilmor took on three more beneficiaries: John Andretti at Hall-VDS Racing, Scott Brayton at Dick Simon Racing and Tony Bettenhausen who fielded his own team. It wasn't that strange that Hall-VDS got the engines: VDS was one of the companies maintaining the Ilmor engines in the USA.

On the other hand, Team Penske shrunk back from three to two cars, so the number of Ilmor-powered entries was a full dozen. But at Indianapolis in particular, the effect of Chevy domination began to increasingly rear up its ugly head. Chevy teams were told not to hire out Chevy-engined back-up cars to drivers looking for a drive in the second week of qualifying. The reason given for that was that Ilmor didn't have enough facilities to maintain any additional engines. Angry fans complained that CART stood for Chevy And Rich Team owners. Rick Mears won both the pole and the race for Ilmor-Chevy. But at the end of 1991 Ilmor lost Newman-Haas and Ganassi Racing as its customers since a challenger to the throne was announced to be ready in 1992.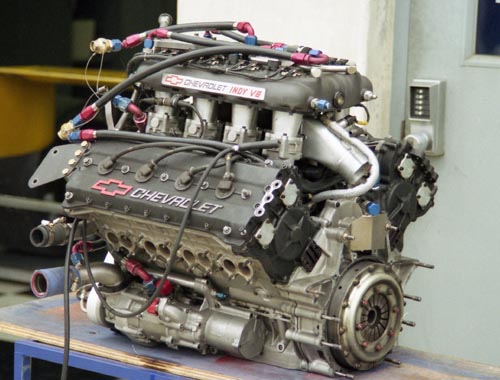 A late version of the Ilmor 265A. (photo HG)
The Chevy had rendered the Cosworth DFX and its improved version, the shortstroke DFS, without a chance for victory. This had led to Ford commissioning Cosworth to build a new CART engine. Cosworth didn't disappoint. The new engine, called XB, was a stunning design, ultracompact yet powerful.

Ilmor responded by starting a similar project but it was too late to introduce an entirely new, compact engine. But for 1992 Ilmor did release the Chevy/B engine. It was lighter, lower and a little less wide compared to its forerunner. Most work had gone into designing new cylinder heads. The engine it succeeded was now retrospectively called the Chevy/A. The /B was only available to Roger Penske's team. It was still called a Chevy, although there were reports that this new engine was to be named Buick. Should this have happened, it is curious to think about what may have happened with the Buick stock block projects that grew stronger and stronger and were at their zenith in 1992.

The /A was made available to even more teams now that six of them were not bespoke to guaranteed customers. In fact, the engine was at long last told to be available for all takers who could afford them. All takers except one…

Stepping beyond the limitations of our focus on Indianapolis for a moment: Alfa Romeo gave up on its shortlived CART program at the end of 1991. Needing new engines to continue into 1992, Patrick went to Ilmor. But he was told that he wouldn't get engines under any conditions, even if it came at the expense of his entire team and drivers. Ilmor had its revenge for the incident in late 1989 when Patrick had allowed at least one Ilmor to be inspected by Alfa Romeo. Patrick sold out to his nominated new driver Bobby Rahal and his new business partner Carl Hogan. With the team in new hands Rahal's request for engines was granted and, ultimate of ironies, he became the new CART champion!

Back to Indianapolis again: during the practice in 1992 the King Motorsports and Menard Racing Lola Buicks, as well as the Lola-Ford XBs fielded by Newman-Haas Racing and Target Ganassi Racing cleaned up and took the first six positions on the grid. King and Menard were represented with one car each (King's car on pole) while the four XB-powered cars took the remaining four spots.

The Chevy brigade, never so large before, was forced to take a back seat during practice and qualifying. Danny Sullivan in the Galmer was the first Chevy on the grid in eighth spot. There were no less than 16 Chevy/A-powered qualifiers in the race, and it could have been one more if Scott Brayton hadn't parked his Chevy to go back to the Buick again. How many other drivers would have done the same in such a situation?

The race, however, gave more hope for promise to Ilmor-Chevrolet. Their /A engine was race-proven, a number of them still in use by quality teams and drivers. The Ford XB was brand new and had yet to prove its reliability, and there were only four of them, while the Buicks were known to be notoriously unreliable. Nevertheless, it took only one of those five King or Menard cars to survive to beat all those Chevies. Then there was Buick specialist Scott Brayton to keep an eye on. Nevertheless, in both numbers and proven reliability, the odds were favouring Ilmor-Chevrolet.

Michael Andretti in his '92 Lola-XB was the all-dominant force on Race Day but he had to retire with 11 laps to go. Al Unser Jr, driving a brand new Galmer chassis, got the win in a photo finish with Scott Goodyear, giving the Chevy/A its fifth consecutive victory.

The two Chevy/B-powered Penskes were uncharacteristically uncompetitive on Race Day - for Penske standards that is… In early practice they had been among the fastest non-Buicks and non-XBs. But in the race - if the 1992 event could be called a race given its awful amount of laps driven under yellow - they were midfield contenders.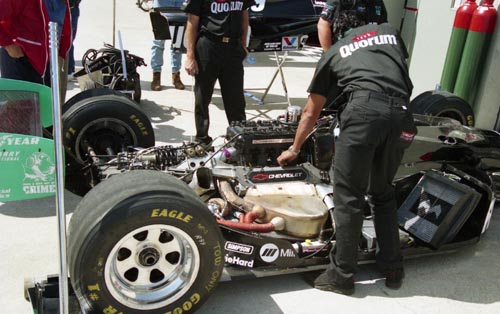 The Ilmor 265B (Chevy/B) was exclusively used in the 1992 Penske PC22. I never got to see a /B engine standing free. The closest I could get for a shot of the 265B was for this picture of one of Eddie Cheever's 1993 cars. (photo HG)
The Chevy/A, previously the hot thing to have, was found in only two cars that qualified for the 1993 race. It was still better than the record for its updated version, the /B. Mark Smith and Eddie Cheever drove '92 Penske-Chevy/Bs, now in private hands. Both Smith and Cheever qualified their primary cars first. When these were bumped they qualified their back-ups but were bumped again. Thus the Chevy/B never made the field beyond 1992.

But Ilmor had by now debuted its genuine answer to the Cosworth XB, a newly designed compact engine, designated the Ilmor Chevy/C. The /C featured major differences in the bottom part of the engine. The cylinder heads still had a lot in common with, and were inspired on, those in the /B. The starting field at Indianapolis in 1993 contained 11 /Cs but Ilmor had only a single car among the first seven finishers. Fortunately for them, the top seven consisted of a winning Chevy/C (Fittipaldi's Penske entry) followed home by 6 XBs!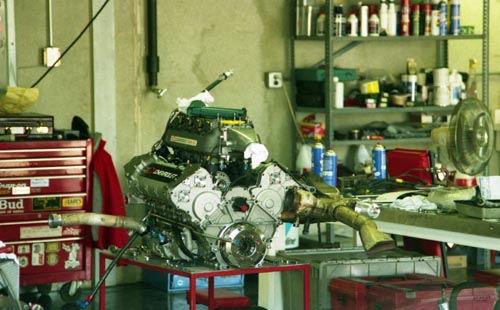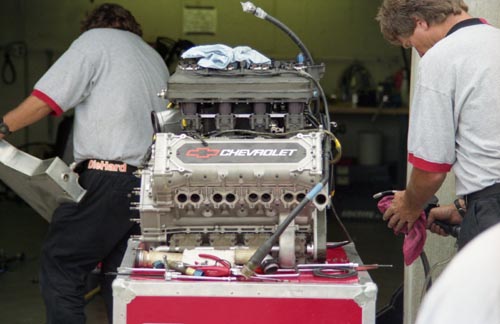 Two shots of the 265C as taken during practice in 1993. (photo HG)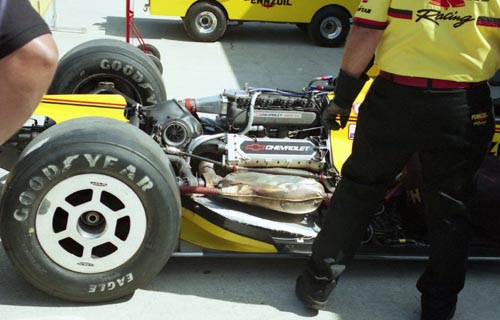 Compared to earlier Lola cars using the 265A, the Ilmor 265C had its turbocharger located higher up again. (photo HG)
Victorious yet again, Paul Morgan and Mario Illien had their work cut out for them, since the Chevy/C had left some room for improvement. A new engine for 1994 (the /D) was on the drawing boards, heavily inspired on the /C. But the opposition by the Ford XB and the Menard V6 was the least of their worries. There was one thing they feared most of all…

For detailed information about Ilmor and its founders and projects up until 1996, I recommend the book Prime Movers by Karl Ludvigsen.